The Railway Folk Club
Thursday
March 6th 2003
At the Railway we have started offering 'Big Spot' bookings to our Residents and Singers' Night regulars. I was chosen to be the first lamb to the slaughter...!!
Stewart, the organiser, writes:
Well, what a fantastic start to a new idea...extended spots 'Big Spots' for some of our regular singers/performers.
Bernard was brill! I thought so and so did loads of the audience, who told me that they had never seen enough of Bernard to realise how talented he was.
With virtuoso performances on accordion, English & Anglo concertina, six & twelve string guitar with fancy tunings and five string banjo and both slow haunting songs 'Sally Free & Easy' & 'Ellen Vannin' and funny chorus songs 'Ball o'Yarn' and 'Slap Bum Tailor'... and my particular favourite guitar instrumental was 'Dallas Rag'.
We all enjoyed it, Bernard looked like he was loving it too...and I can't wait for the next time we see him for his next 'Big Spot'.
Why not visit the Railway website to see what else we've got lined up?
Click on a picture to make it bigger!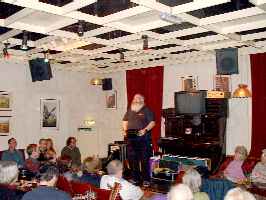 Click here to email me...
---

Top of page

Close this window when you've done!!

© 2003 Bernard Cromarty