The Ring o'Bells Folk Club
Tuesday 18th June 2002

Jean Finney's Review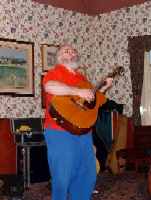 ---
Click here to close this Window
---
Bernard Cromarty at the Ring o'Bells, Widnes 18th June 2002
Normally found in darkened lighting at the Lymm Folk Club on a Thursday night, this hairy womble-like creature called Bernard Cromarty can be heard giving rousing lusty renditions of unsuspecting folk songs (and others). His generous frame hides an agility that is deceptive, and the facial growth hides an impish glint in the eye, giving a clue to the wicked sense of humour which ensures the all round enjoyment of his audience.
That was my first impression of this performer, who readily accepted the challenge of a half hour spot at the Ring o'Bells folk club in Widnes on Tuesday 18th June 2002.
He arrived at the club long before his audience, to be hosted by Jan McNichol. The array of three guitars, two concertinas, accordion, and an assorted percussion/harmonica contraption had me looking for his support group. Naaaaaa. It was all Bernard's.
In the space of half an hour he regaled us (mercilessly) with each and every instrument. There is no doubt about it, he is bloody clever. But somehow between the flashes of brilliance it went to pot (hilariously) and miraculously became coherent once more. His songs were likewise, tender, loving, melodic, raucous and dabbling in protest and heavy metal.
No one knew Bernard at the beginning of the night (Where did you find him? They kept asking). By the end of the night, they were all grinning and asking when he is coming back. Bernard is on my list for next year. That's a promise.
There is a wealth of talent and performing ability available locally without having to go very far or pay a fortune. Bernard typifies this - it's what makes the local scene so varied and interesting. There are so many 'Bernards' around (well maybe not quite like Bernard!), and clubs should use them, help them develop and benefit clubs and audiences in the process.
Jean Finney
Organiser Ring o'Bells Folk Club, Widnes
0151-424-3672
---
Click here to close this Window
---