Coppull Folk Festival 2005
Friday
17th June
to
Sunday
19th June
The Festival was at the Alison Arms, Preston Road (main A49), Coppull, near Chorley, Lancs.
I was the guest for the Sunday afternoon concert, and here's the evidence!
Close this window when you've done!!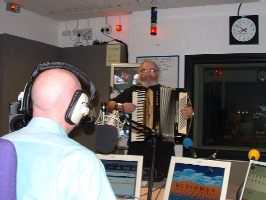 BBC GMR 'The Parlour'
with Alan Keegan (foreground)
Monday 23rd February 2004




Don't forget to tune in to 'Sounds of Folk' on Mondays between 8:00pm and 9:00pm,
with Ali O'Brien, Laura Hockenhull, Jenny McCormick and me!
Only on BBC GMR!
Click here to email me...
---

Top of page

Close this window when you've done!!

© 2005 Bernard Cromarty